The olive drab, or OD green color that is associated with military uniforms has been around for quite a while, but how did it get started?
Olive drab green is not the most common color in the world, so how did military uniforms come to be this color? This OD green color is actually a combination of yellow and green, and it first came about because it was a good color to make the uniforms more camouflaged. It was, in fact, a color that looked like the color of an olive, hence the name.
The term "olive green" has been used since the 12th century, but it wasn't until the Second World War that American soldiers adopted uniforms in this color and started calling it olive drab.
Several years after the Vietnam War, the color of most military uniforms around the world was changed somewhat, but today many military people still call it the olive drab or OD green color. It seems people cannot get away from the term "olive drab."
Olive drab green isn't just used in the military. Artists have been making paintings with this shade of green, as well as many other shades, for a very long time. In the early 1900s, Thomas Wilmer Dewing painted Symphony in Green and Gold, and let's not forget Claude Monet's Bridge Over a Pond of Water Lilies, a famous painting from 1899.
It seems that greenish-yellow shades and other shades of green are popular with a lot of people.
The OD Green Color: Does the Color Green Mean Anything?
The STRIKER PASGT (Personnel Armor System for Ground Troops) ballistic helmet is designed according to the latest US Military requirements, utilizing the most advanced protection against handgun ammunition.
Not only does olive drab green have its own symbolisms, but the color green in general symbolizes life, renewal, growth, rebirth, and of course, nature. Olive green has been known to symbolize hope, wisdom, compassion, and harmony.
Olive green can also symbolize sophistication, as evidenced by the fact that numerous high-end luxury items are made in this color. And here's another tidbit you probably didn't know: since an olive branch symbolizes peace, so does the color olive drab!
There Are Different Shades of Olive Drab Green
Olive drab is a yellow-green color, but it also comes in many shades. This includes the following:
Basic Olive Green
Basic olive green is a darker yellow-green color. It is a bold color that works well with colors such as blue and various shades of green and brown.
Dark Olive Green
This is a darker shade of basic olive green and looks like the color of an unripe olive. It looks great when paired with colors such as red and yellow, as well as more neutral colors such as beige, white, and even black.
Drab Green
This color is actually a very dull light-brown color, and many military uniforms are still being made in this color. The term "drab green" has been around since the late 18th century.
Light Olive Green
This is a rather soft type of olive green and goes great with natural colors such as tan and beige, but it also looks good with some darker colors such as maroon.
Black Olive Green
Also called "black olive," it is a dark grayish-yellow color and looks similar to Kalamata olives. When you first look at it, it simply looks like a dark-gray color.
Other Items Made in Olive Drab
The OD green color is not just found in military uniforms and paintings, however. The military, for example, uses this color in numerous items, from tactical gear to foot lockers and so much more. The military often uses two shades of green: Ranger green, which has more brown tones and is therefore less "bright;" and olive drab, which has a lot of green in it and is a little brighter than Ranger green. Tactical gear can be made in either of these colors.
Because Ranger green is less bright than olive drab, the color is often used when making items to wear in rural and urban areas. In the military, there are three types of OD green color; they are known as #3, #7, and #9. But olive drab is available in colors that range from khaki to a dark rich green. So, olive drab green is actually a phrase for several types of military-style greens that are used in the making of uniforms and so much more.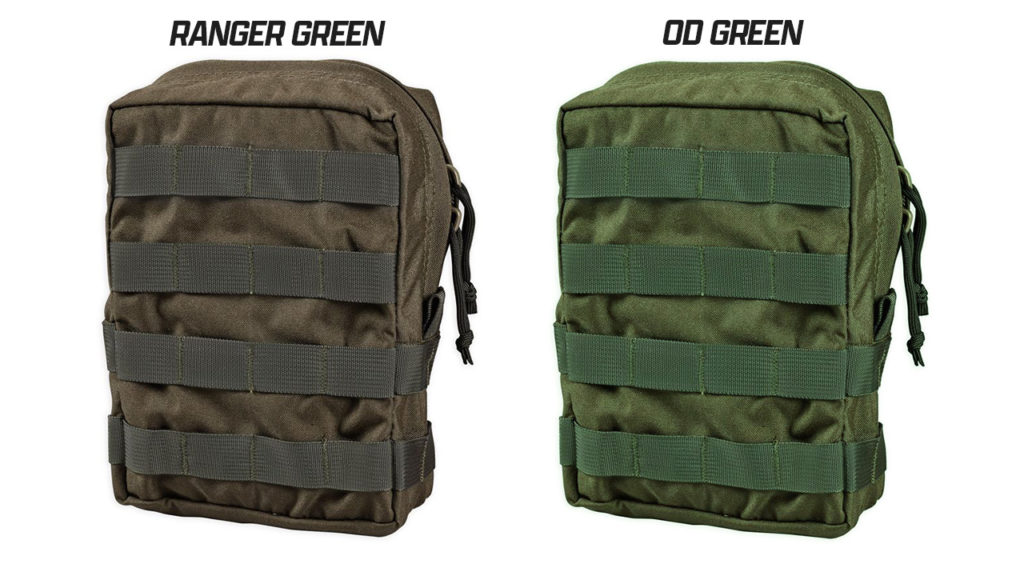 While olive green and olive drab are associated with the military, this is not the only place to find this color. It is rather prevalent in paintings, civilian clothing, first aid kits, dog collars, watches and other types of jewelry, and even purses and other types of bags.
While everyone thinks they know what is meant by the term "OD," the truth is that OD green is not just one shade of green. It includes many different shades, which are all used for specific purposes.